Hey there, fellow headlight enthusiasts! You've probably seen the magic of plug-and-play LED bulbs and HID kits. But have you ever dived into the world of projector retrofits? If not, buckle up! We're about to take you on a journey that will illuminate the path to your next headlight upgrade.
Why Projector Retrofits?
So, why should you consider a projector retrofit? Simple. If you're stuck with a halogen, reflector-based headlight, you're missing out on some serious light output. Let's face it. By today's standards, the output from these old-school headlights just doesn't cut it. That's where a projector retrofit steps in, turning your headlights from "meh" to "marvelous."
The Projector Retrofit Transformation
A projector retrofit is like giving your car a pair of eagle eyes. It involves swapping out your existing halogen headlight with a bi-xenon projector. This upgrade will take your light output from "just okay" to "jaw-droppingly awesome." We'll show you the difference between a standard halogen headlight, a comparable LED bulb, a comparable HID kit, and finally, the star of the show, a bi-xenon projector retrofit.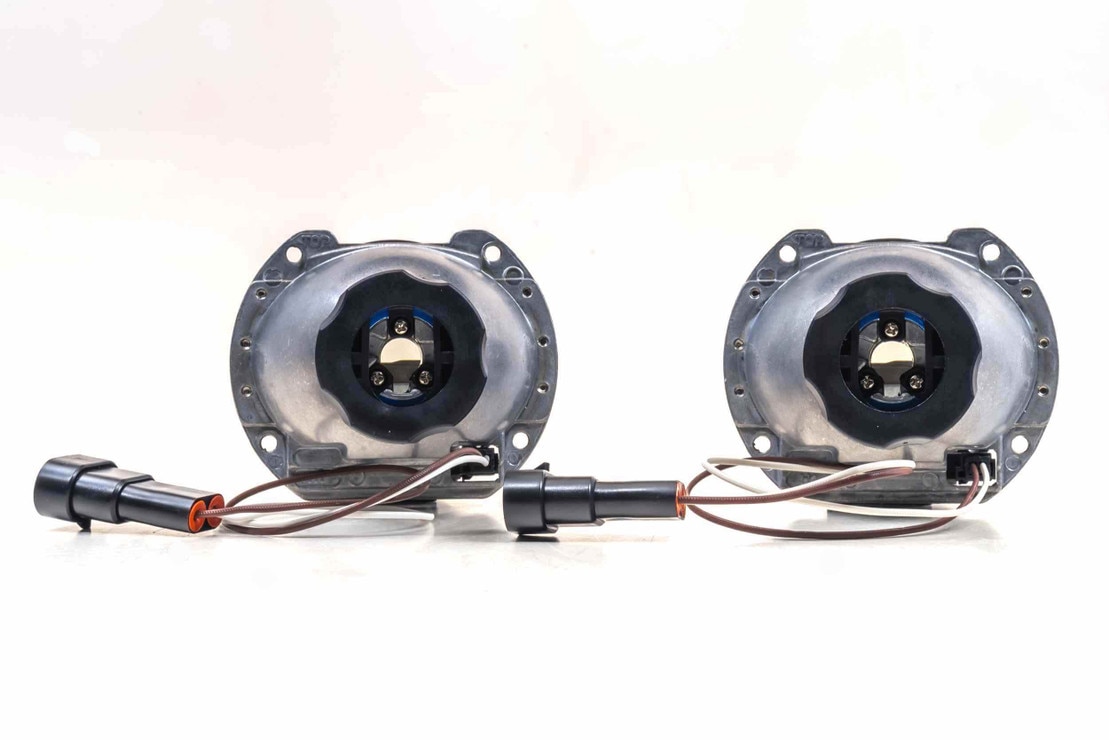 BI-XENON: MORIMOTO MINI H1 8.0
Starting at $165
The Nitty-Gritty of a Projector Retrofit
A projector retrofit is a bit like a headlight facelift:
Remove your existing headlight: This involves heating the headlight to soften the glue, then gently prying it apart.
Install the new projector: This might require some minor surgery inside the headlight housing, like creating extra clearance or attaching a shroud to the projector.
Reseal the headlight: This involves applying fresh sealant and clamping the headlight shut to ensure a watertight seal.
In a nutshell, a projector retrofit is your ticket to superior lighting. It's a three-step process: remove, install, and reseal. It's all about upgrading your ride's visibility game to the next level. Get ready to light up the night like never before.
Choices, Choices, Choices
When it comes to projector retrofits, the world is your oyster. You can choose from a smorgasbord of projectors, power supplies (HID ballasts), HID bulbs, and shrouds.
Projectors come in different sizes and types, including OEM and aftermarket options. The choice depends on your vehicle's headlight size and your personal preference.
Power supplies, or HID ballasts, are the heart of your projector retrofit. You can choose between OEM and aftermarket options, as well as between 35-watt and 50-watt versions.
HID bulbs are the soul of your retrofit. They come in a spectrum of colors and brands. You can choose a color temperature that suits your mood, from warm white to pure white or even a hint of blue.
Shrouds are the finishing touch that gives your retrofit its unique personality. They come in various designs and colors. This allows you to customize the look of your headlights.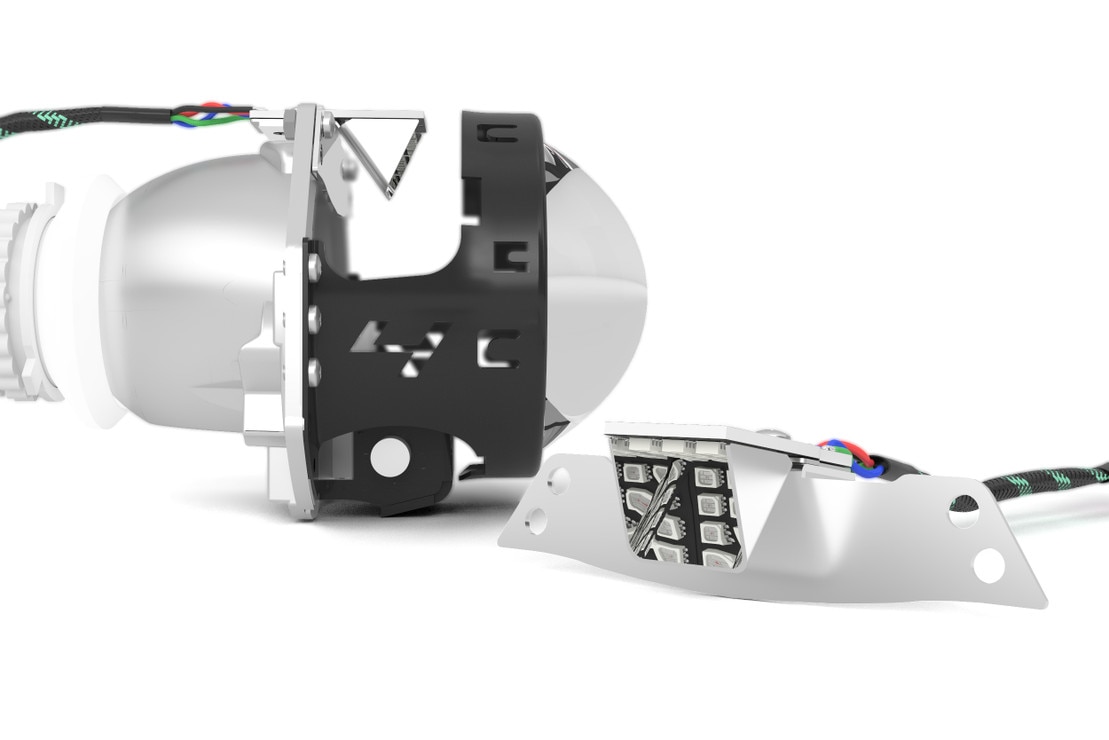 DEMON EYES: PROFILE PRISM (RGB)
Starting at $70
The Cherry on Top
To make your retrofit truly one-of-a-kind, consider adding LED halos, switchback LED strips, or demon eyes. These additions can make your headlights stand out and add a unique touch to your vehicle.
Wrapping Up
A projector retrofit is a game-changer for any vehicle with halogen headlights. It boosts light output, enhances safety, and allows for personalization. While it requires some elbow grease and investment, the results are worth every penny. If you're considering a projector retrofit, we hope this guide has shed some light on the process.
And remember, if you're still scratching your head or need a helping hand, our customer service team is always here to help. Let's light up the road together!
Ready to Illuminate Your Drive? Get in Touch With Us!
Let's talk lights! We're more than just a team here at The Retrofit Source. We're a group of enthusiasts who live and breathe headlights. We're committed to perfecting your night-time driving experience and providing you with top-notch headlight upgrades tailored to your specific needs.
Whether you're driving a classic car or the latest model, we believe that every journey should be a standout experience. Don't let the darkness dim your shine. Illuminate the road and make your presence known, day and night.
We're here to answer your technical questions, provide personalized recommendations for your project, and offer assistance with installations. Your project's success is our goal. We're ready to help you achieve it every step of the way.
We also strive to make our services accessible to all. If you're vision-impaired or have an impairment covered by the Americans with Disabilities Act or a similar law, and you need accommodations to use our website, please reach out to us at 404-220-7940 or email us at support@theretrofitsource.com.
So, are you ready to take your vehicle's lighting to the next level? Contact us today and let's get your project started!