For off-road enthusiasts, construction workers, and emergency responders, light bars for trucks are a must-have accessory. They provide superior lighting in low-light and nighttime conditions, making them ideal for various applications.
LED light bars have become increasingly popular due to their energy efficiency, durability, and brightness. Here we'll discuss different types of these popular aftermarket automotive lights for trucks. We'll also explain why they are essential for enhancing your truck's performance and safety.
What Are LED Light Bars?
LED light bars are a type of automotive lighting system that uses light-emitting diodes (LEDs). They work to produce a bright, focused beam of light. These lighting solutions are designed for various applications, including off-road driving, construction, and emergency response. LED light bars are known for their energy efficiency, durability, and superior brightness compared to traditional halogen or HID lights.
Is It Illegal to Have a Light Bar on Your Truck?
The legality of having truck LED bars varies depending on state laws and regulations. Some states may restrict the type, size, or brightness of LED bars on public roads.
In some cases, these bars may only be allowed for off-road use. They must be covered when driving on public roads. You must check your state's regulations and ensure compliance to avoid potential fines or penalties.
Where to Install Your LED Light Bar for Trucks
Choosing the right location for your LED light bar is essential to optimize its performance and achieve the desired lighting effect. Here are some popular mounting options for your truck's LED light bar:
Front Bumper
LED bars on the front bumper of trucks are popular because they provide direct and focused lighting. This location is suitable for off-road driving, where additional lighting is needed for rough terrain or low-visibility conditions.
Lower Grille
You can also mount the LED light bar in the lower grille. This placement protects it and keeps it out of sight. It still provides better lighting. This location is ideal for trucks with limited front bumper space or those who prefer a more subtle installation.
Roof
A roof-mounted LED light bar provides excellent visibility and an aggressive look. This placement allows the light bar to shine down on the road or trail, maximizing its LED off-road lighting capabilities. However, roof-mounted light bars may increase wind resistance and noise, so it's essential to consider these factors before installation.
Hood
Installing the LED light bar on the hood can offer a sleek appearance and easy adjustment access. This location provides less lighting than roof or bumper installations. It is ideal for people who want to maintain the truck's low profile.
Rear Bumper or Bed
For truck owners who need extra lighting, an LED light bar is a good option. It can be installed on the rear bumper or the truck bed. This setup is particularly helpful for reverse lighting, hitching trailers, or lighting work areas behind the truck.
Choose the location for your LED truck bar carefully. Consider your specific needs, the terrain you'll be driving through, and the style you want. Be sure your installation doesn't cover any essential vehicle components, such as headlights, taillights, or license plates.
Discover the Various Types of LED Light Bars for Trucks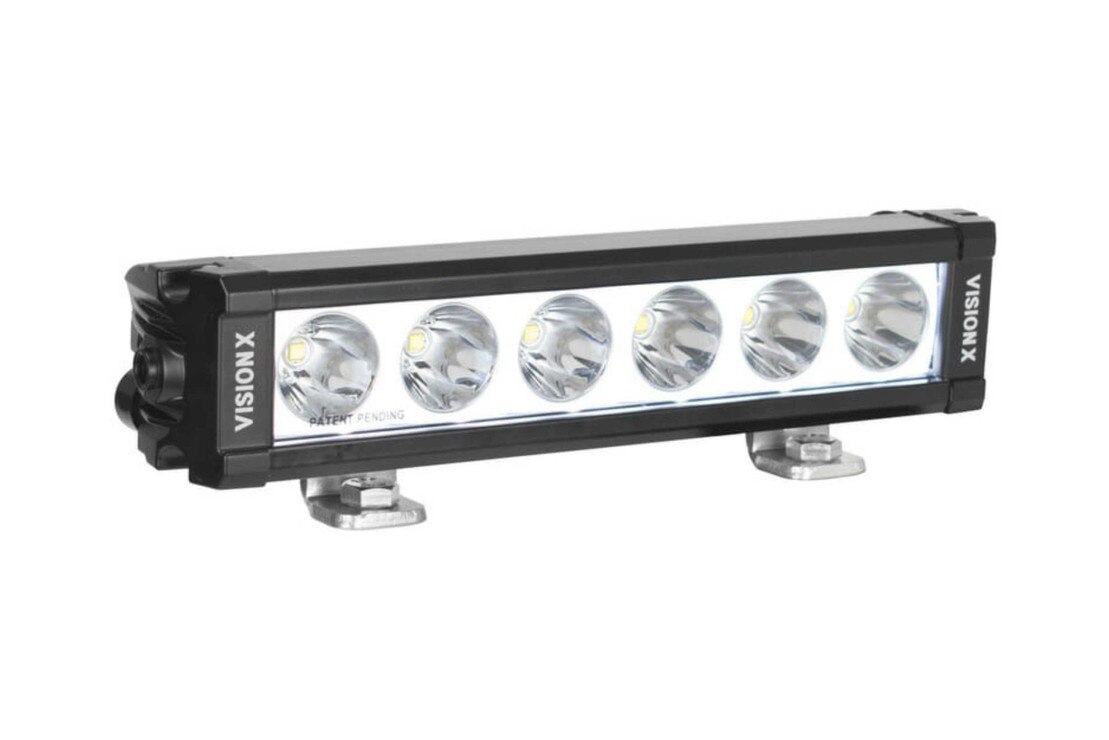 VISION X XPL STRAIGHT LED LIGHT BARS
Straight LED Bars
Straight LED light bars are the most common and versatile type for trucks. They come in various sizes, ranging from 6 inches to 50 inches in length. Straight LED bars produce a concentrated beam of light reaching several hundred yards. This makes them perfect for off-roading or working in dark environments.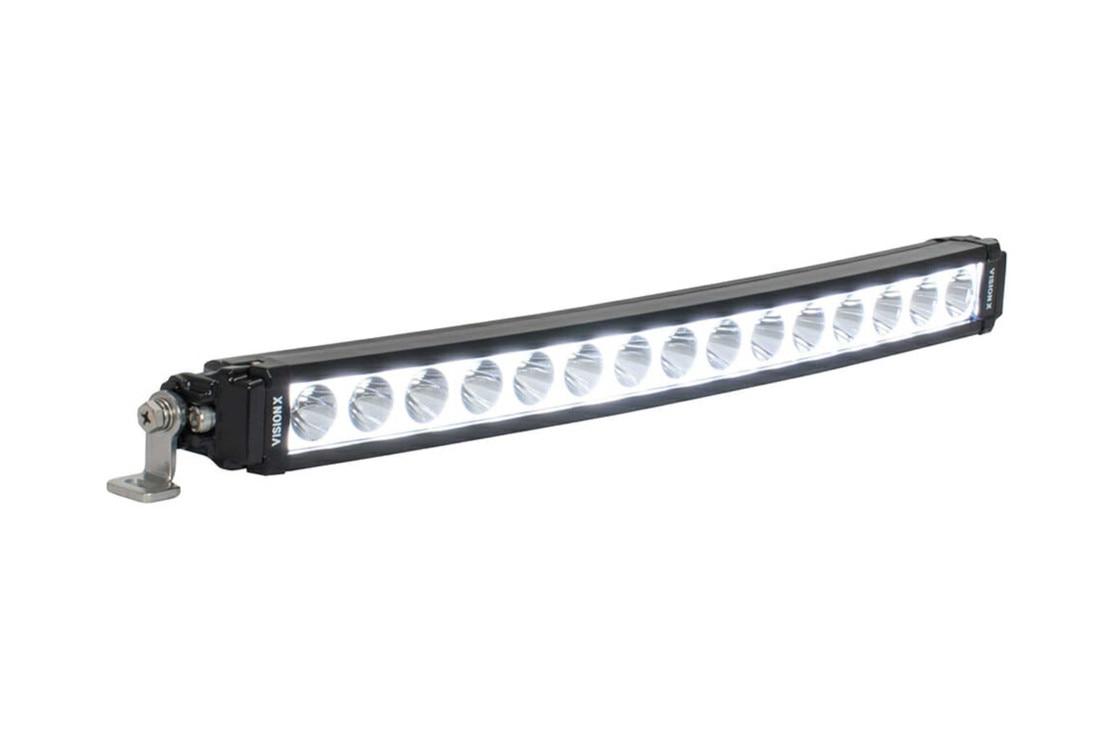 VISION X XPL CURVED LED LIGHT BARS
Curved LED Bars
Curved LED light bars offer a wider field of view than their straight counterparts. They are designed to provide better visibility on trucks and other vehicles that require enhanced automotive lighting. Curved LED bars come in different sizes, from 30 inches to 52 inches in length. This allows you to choose the perfect fit for your truck.
Dual-Row LED BARS
Dual-row LED light bars feature two rows of LEDs. They offer twice the amount of light as a single-row light bar. These bars are ideal for larger trucks and off-road vehicles that require maximum brightness.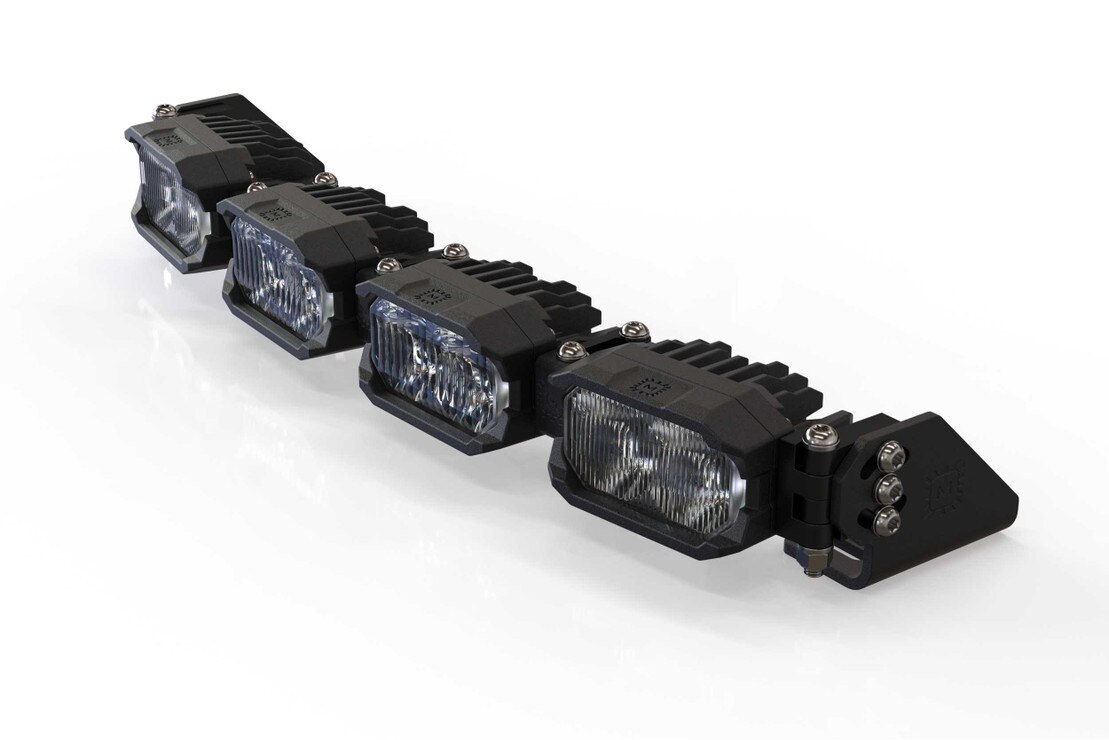 SINGLE ROW BANGERBAR OFF ROAD LED LIGHT BAR: 4 POD / 16"
Single-Row LED Bars
Single-row LED light bars are designed for smaller trucks or as auxiliary lighting. These light bars provide a concentrated beam of light in a compact form factor.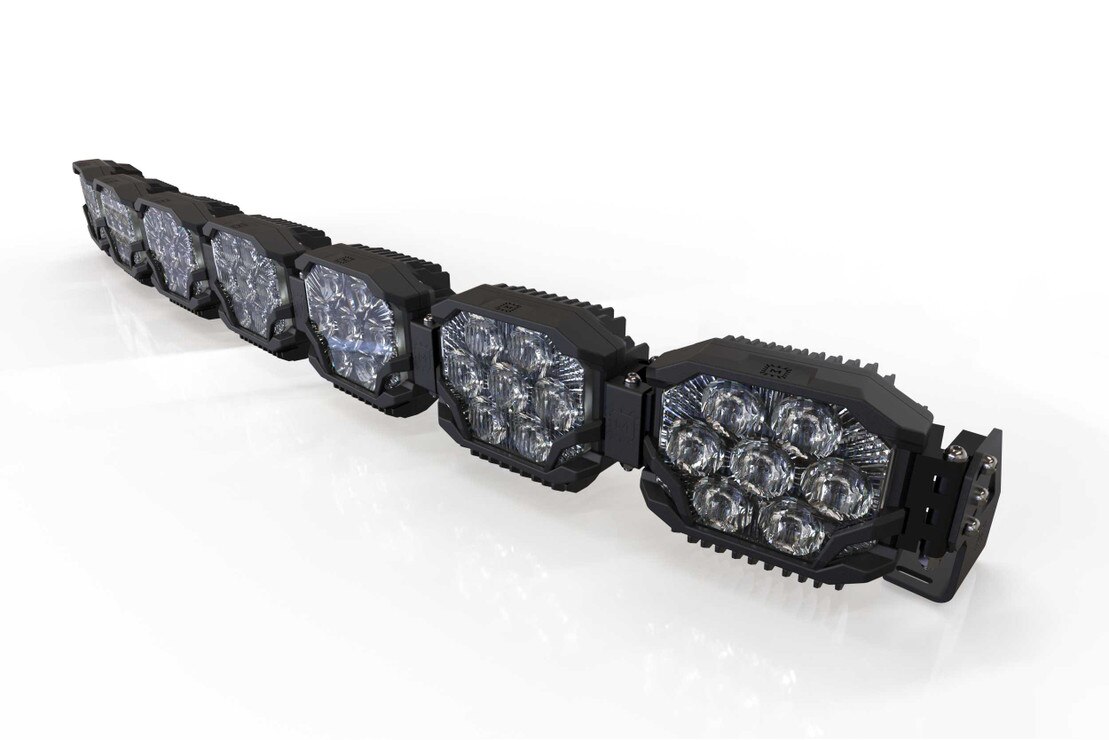 TRIPLE ROW BANGERBAR OFF ROAD LED LIGHT BAR: 7 POD / 50.5"
Triple-Row LED Bars
Triple-row LED light bars take it a step further by adding three rows of LEDs. These bar types offer even more light than dual-row. Triple-row LED bars are perfect for those who need the most powerful lighting solution for their off-road adventures. They can also help you when it comes to heavy-duty work tasks.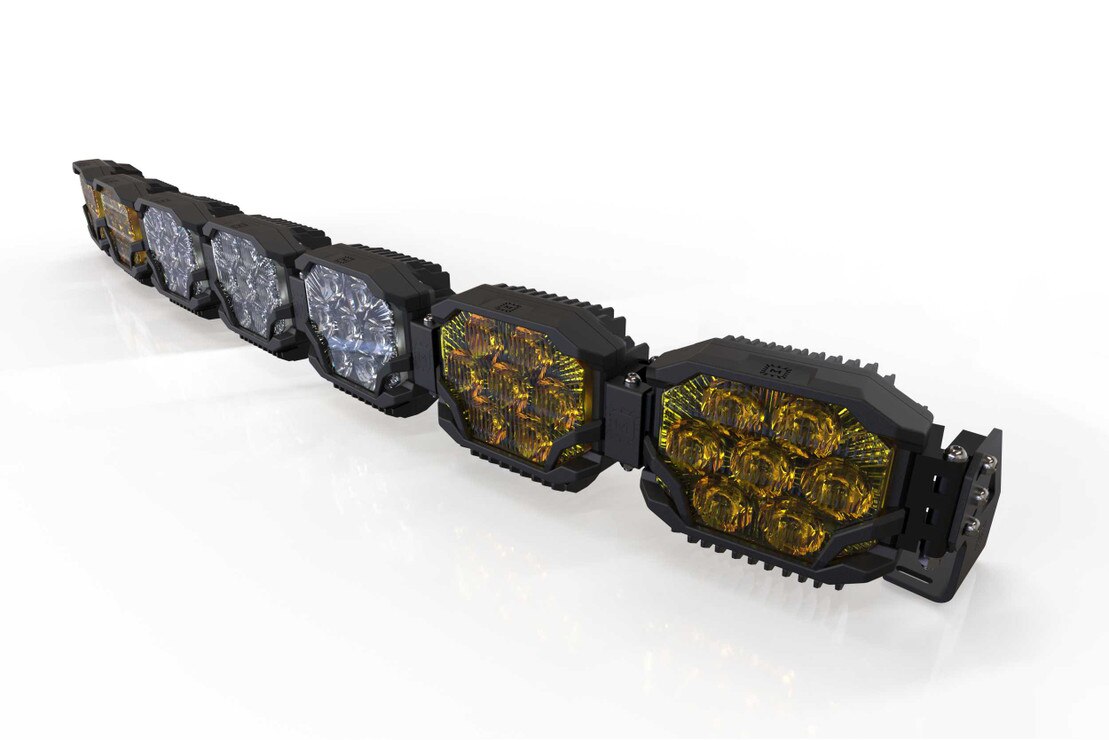 TRIPLE ROW BANGERBAR OFF ROAD LED LIGHT BAR: 7 POD / 50.5"
Amber and White LED Bars
Amber and white LED light bars improve overall safety on the road by offering better visibility and contrast. These truck LED bars are especially important for emergency vehicles or driving in challenging weather conditions. Truck LED bars that use amber and white lighting allow you to switch colors depending on the situation.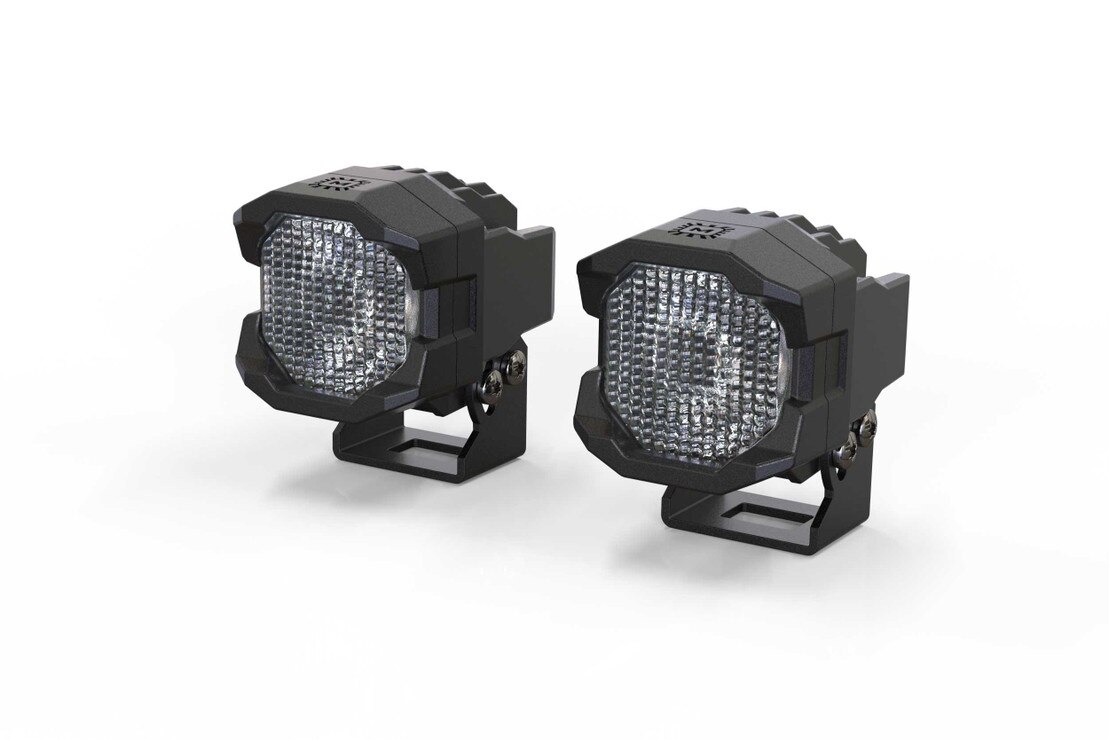 MORIMOTO 1BANGER LED PODS: HXB FLOOD BEAM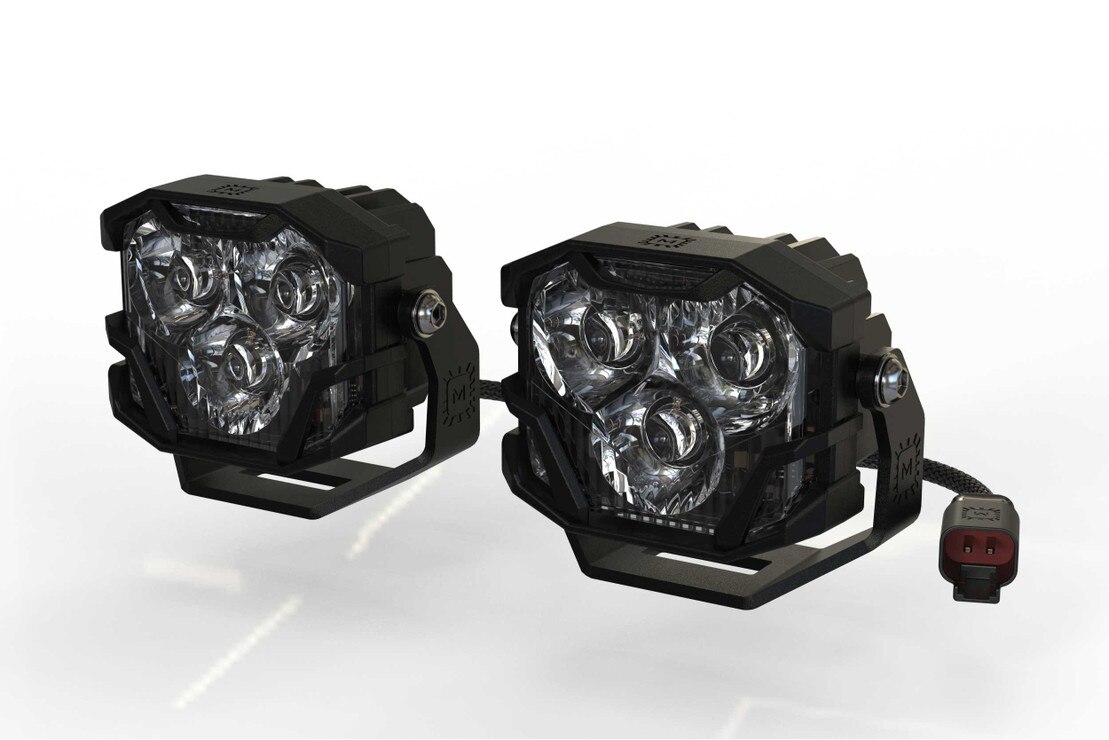 MORIMOTO 4BANGER LED PODS: HXB SPOT BEAM
Flood and Spot Beam LED Light Bars
Flood beam LED light bars provide a wide-angle beam of light. This helps make them ideal for lighting up large areas or driving in low-light conditions such as foggy or unlit roads. On the other hand, spot beam bars produce a concentrated beam of light. This makes them perfect for long-range lighting and activities requiring extended visibility.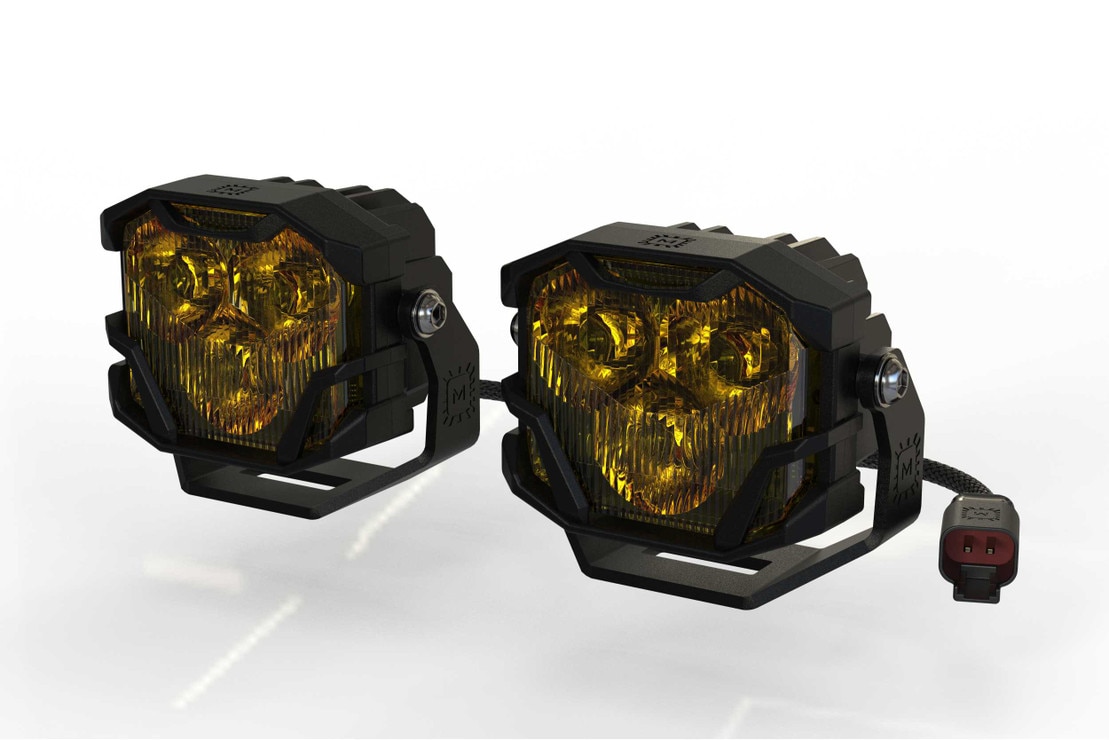 PORIMOTO 4BANGER LED PODS: NCS COMBO BEAM
Combination Beam LED Light Bars
Combination beam LED bars offer the best of both worlds by combining spot and flood beams. These bars make your vehicle more adaptable to different situations. This includes off-road driving, camping, hunting, and working in unlit areas. These LED bar types can also enhance overall safety by providing better visibility and a unique lighting pattern. This not only keeps you safe but also helps set your truck apart from others on the road.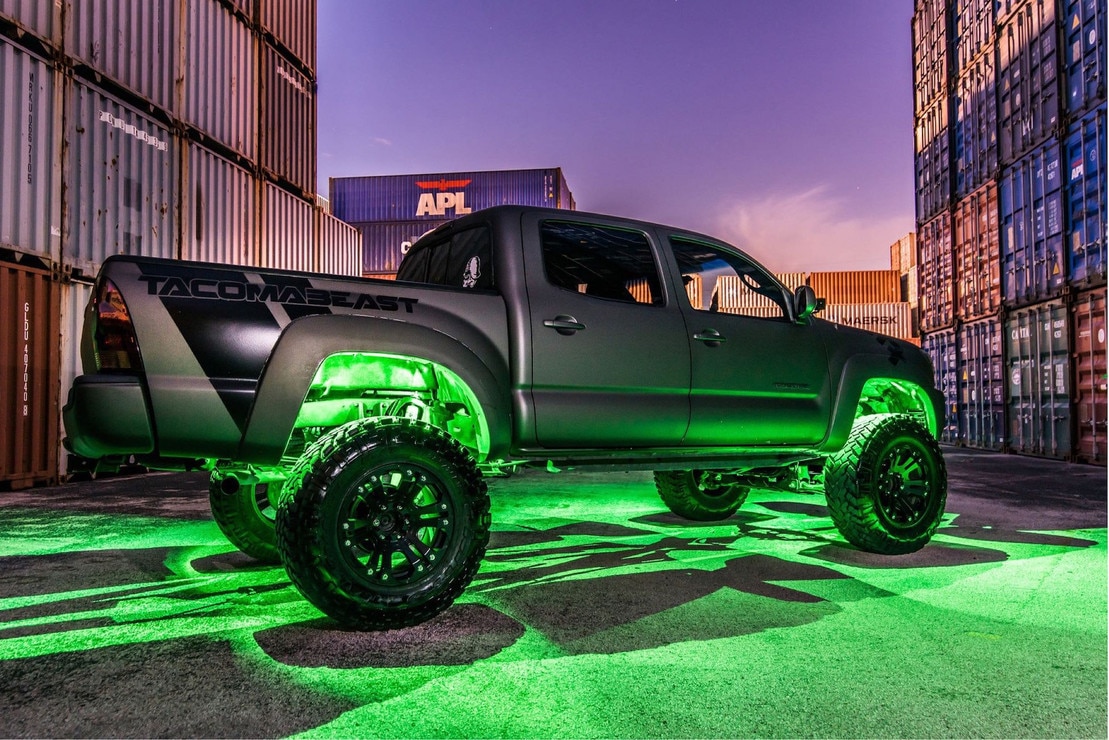 PROFILE PIXEL: RGB ROCK LIGHT (8PC.)
Rock Lights for Trucks
Rock lights are specialized LED lights used in off-road and racing applications. They provide additional lighting and visibility for the driver and are available in various colors. They can also be controlled via a remote or smartphone app.
Boost Your Truck's Performance with Our Premium LED Light Bars
Ready to upgrade your truck's lighting? You can do it effortlessly with our durable, top-quality LED bars. Choose from our selection - designed for all budgets and needs. Enjoy easy installation and excellent customer support.
Get ready! Our customers are satisfied. They recommend our products. Experience the difference our products can make for your truck's safety and performance.