Yooooo, headlight junkies! Here at The Retrofit Source, we're turning up the sizzle this summer with an electrifying offer that's sure to illuminate your ride. Kick off your summer with a gleaming 15% OFF on ALL interior LED headlights with The Retrofit Source promo code.
The Retrofit Source Discount Code: Your Ticket to a Brighter Drive
Ready to enhance your vehicle's interior lighting? Use the Retrofit Source coupon code, INTERIORLED, at checkout to enjoy a whopping 15% discount on any interior LED headlights.
But wait, there's more! We're also throwing in a FREE interior Pry Tool Kit with your order! Use the TRS discount code, PRYTOOL, at checkout, and this essential DIY tool will automatically find its way into your cart.
Time to ignite your summer upgrades with The Retrofit Source promo codes! Click the picture below to shop by vehicle!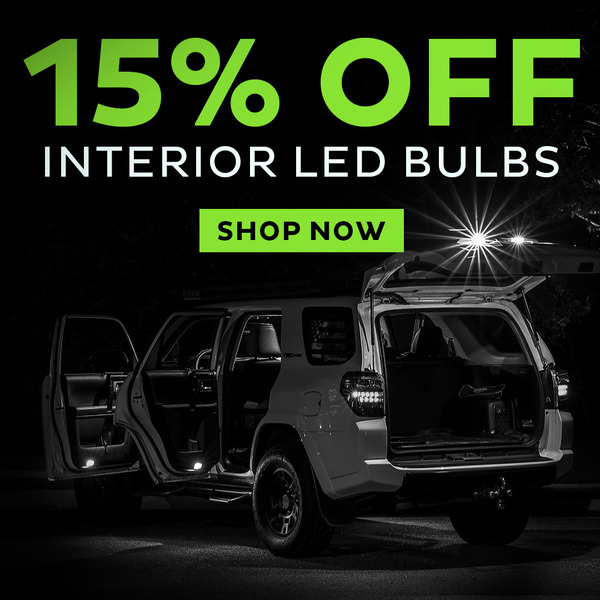 More than Just Promotions, Discounts, and Coupons
If you're on the hunt for TRS discount codes, coupons, sweepstakes, giveaways, and contests, you've landed in the right place. Here at The Retrofit Source, we take pride in offering you the finest brands in automotive lighting at unbeatable prices. And if you keep a keen eye on our space, you'll enjoy:
Even deeper discounts
Bonus giveaways
The thrill of headlight-building competitions
We're all about making your LED headlights and tail lights upgrades an exciting journey. From Retrofit Source discounts to shopping spree rebates to free gifts with purchases, we keep the excitement rolling. Remember, these promotions change frequently, so don't let them slip away - join our mailing list today.
Connect, Engage, Shine
Stay connected with the latest TRS promo codes by liking and following us on Facebook HERE. And while you're at it, why not become a member of the largest lighting enthusiast group IN THE WORLD - Headlight Junkies.
This group is a thriving community of builders, installers, and enthusiasts just like you, armed with a wealth of custom LED headlights builds, new builder questions, and exclusive promotions. So don't miss out; join the illumination party!
JOIN HEADLIGHT JUNKIES TODAY, and let's light up the summer together with The Retrofit Source!