Never-Before-Seen RGB Headlights for the 2021+ Ford Bronco
If the thought of the Bronco being released in 2021 gave you butterflies, you might likely have one sitting in your driveway right now. As soon as enthusiasts could place their orders, Bronco's were being delivered to all corners of the globe. Of course, it might've taken you a few months or even a year or two to see your Bronco, but most owners will agree it was well worth the wait. As the saying goes, the best things are typically worth the wait. This also rings true when it comes to Morimoto releasing their all-new XRGB headlights. The XRGB is a never-before-seen headlight from Morimoto, with all exciting new features exclusively for the Bronco. With such an iconic car coming back, Morimoto had to create something truly special to enhance your new Bronco and complement the hours of work that Ford put behind the retro design.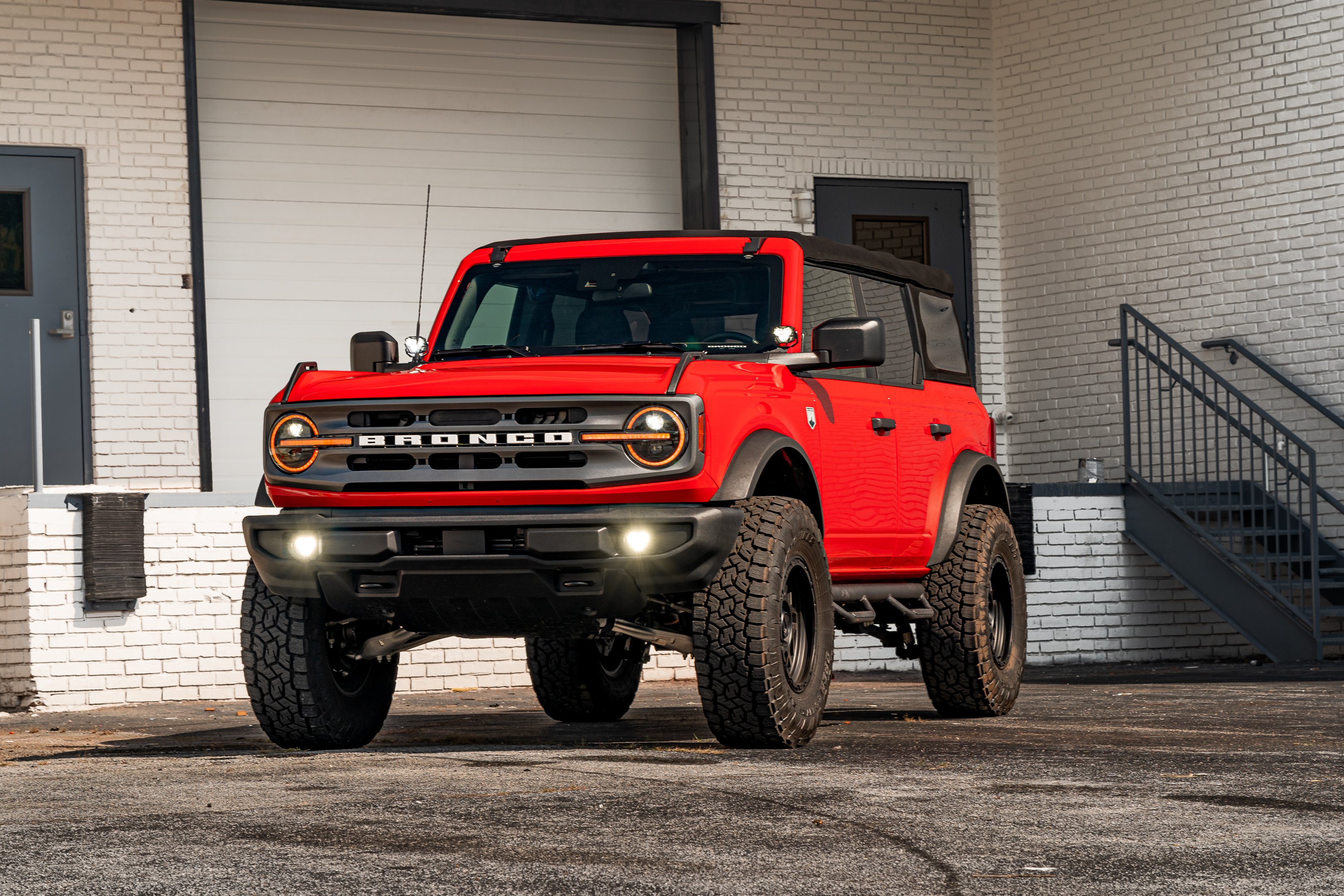 All new RGB Features
As it is right now, there aren't a whole lot of aftermarket lighting options when it comes to your Bronco's headlights. Of the ones available, there isn't an option worthy of your new ride. Morimoto has been paving the way for aftermarket replacements for years and continues to do so with the new XRGB headlights.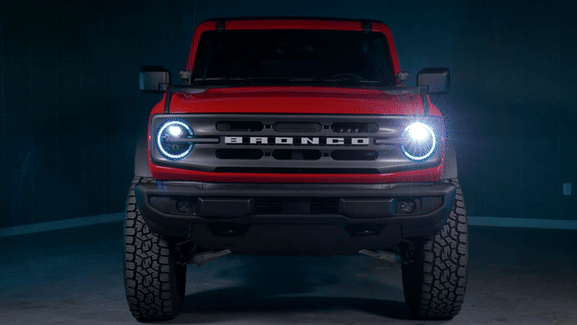 These are the first of their kind in the Morimoto line-up and truly a unique aftermarket option. The new XRGB headlights feature a full color-changing RGB daytime running light. This daytime running light is controlled via a Bluetooth app on your phone called HappyLighting. With a click of a button, you can now have headlights that match your Bronco regardless of your OEM paint color. Red, green, blue, or any other color you choose to run. As with Morimoto's typical high-quality products, the app is also extremely well-constructed. It is easy to download, set up, and extremely user-friendly for any enthusiast. On top of that, you won't experience any lag between changing colors on your RGB daytime running lights. You'll have flawless functions with any mode you chose, and customization is completely up to you.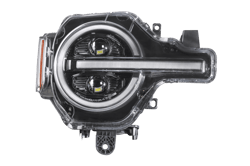 Ford Bronco (21+): XRGB LED Headlights
$1,250.00

Better than OEM LEDs
One huge key factor to the Bronco is that it's an off-roading machine. Ford designed the Bronco perfectly for backroads and mountain trips, equipped with 4-wheel drive to get you anywhere your adventure takes you. You shouldn't let your OEM lighting limit where you get to go. Dim roads and trails can lead to preventable accidents, possibly scratching paint from branches you didn't even see in the dark. For those of you that stick to the roads, it's just as important to be able to see what's coming up ahead. Wildlife, curves, and signs should all be easy to spot, keeping you safe and confident as a driver behind the wheel. The one thing that Ford let the Bronco down with was the OEM LED headlights. Made with an LED reflector, the optics are poor and the beam pattern is way too narrow. We were able to test the new XRGB headlights from Morimoto to show why they are the next best upgrade for your Bronco.
In this test, we use a digital lux meter to measure the brightness of the OEM LED headlights versus the Morimoto headlights. This testing is done 25 feet away from the wall to compare the lights consistently.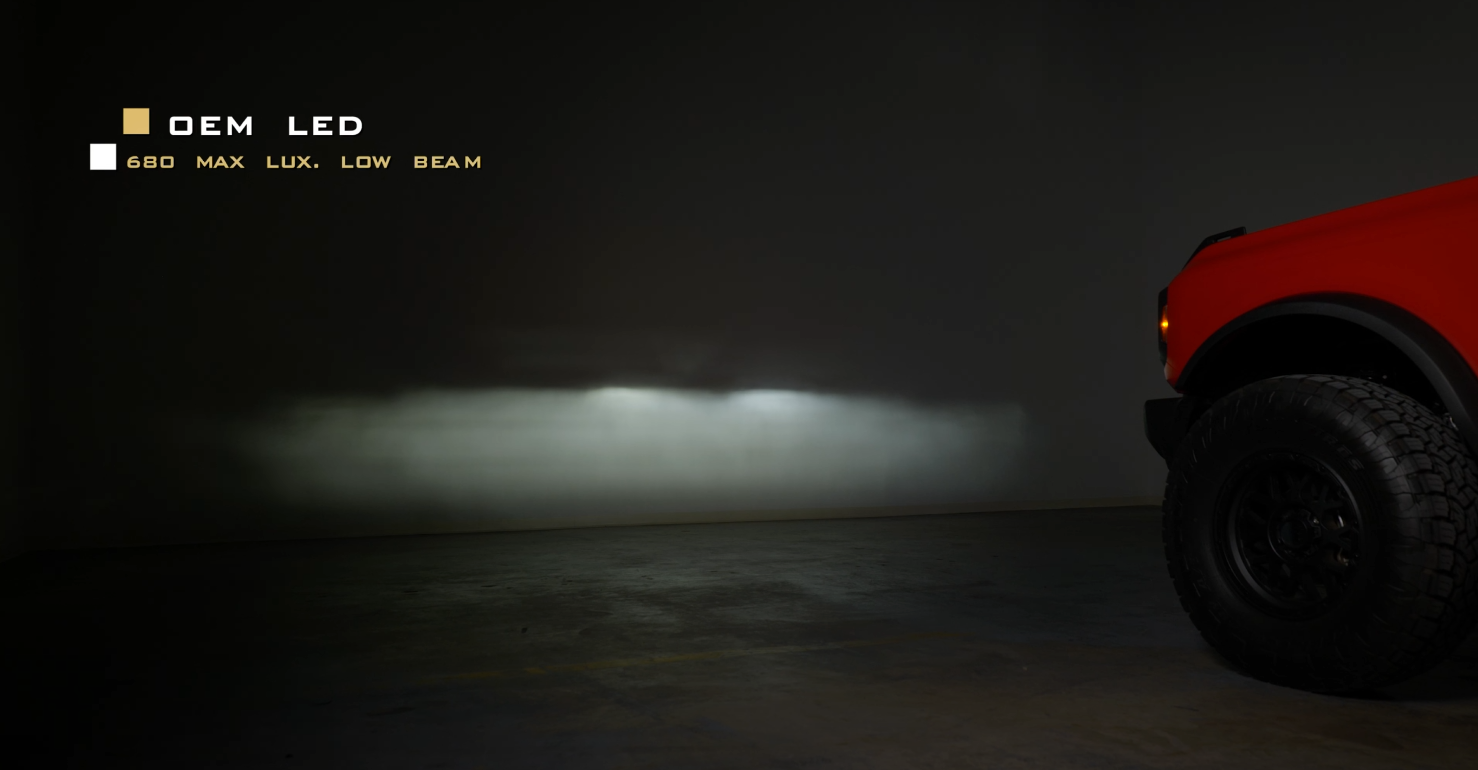 Your OEM LED low beams come in at 680 max lux. For an OEM LED headlight, this isn't that impressive. And as we mentioned earlier, you can see just how narrow the low beam pattern is. The hot spot lacks intensity, which only reduces the amount you can see down the road.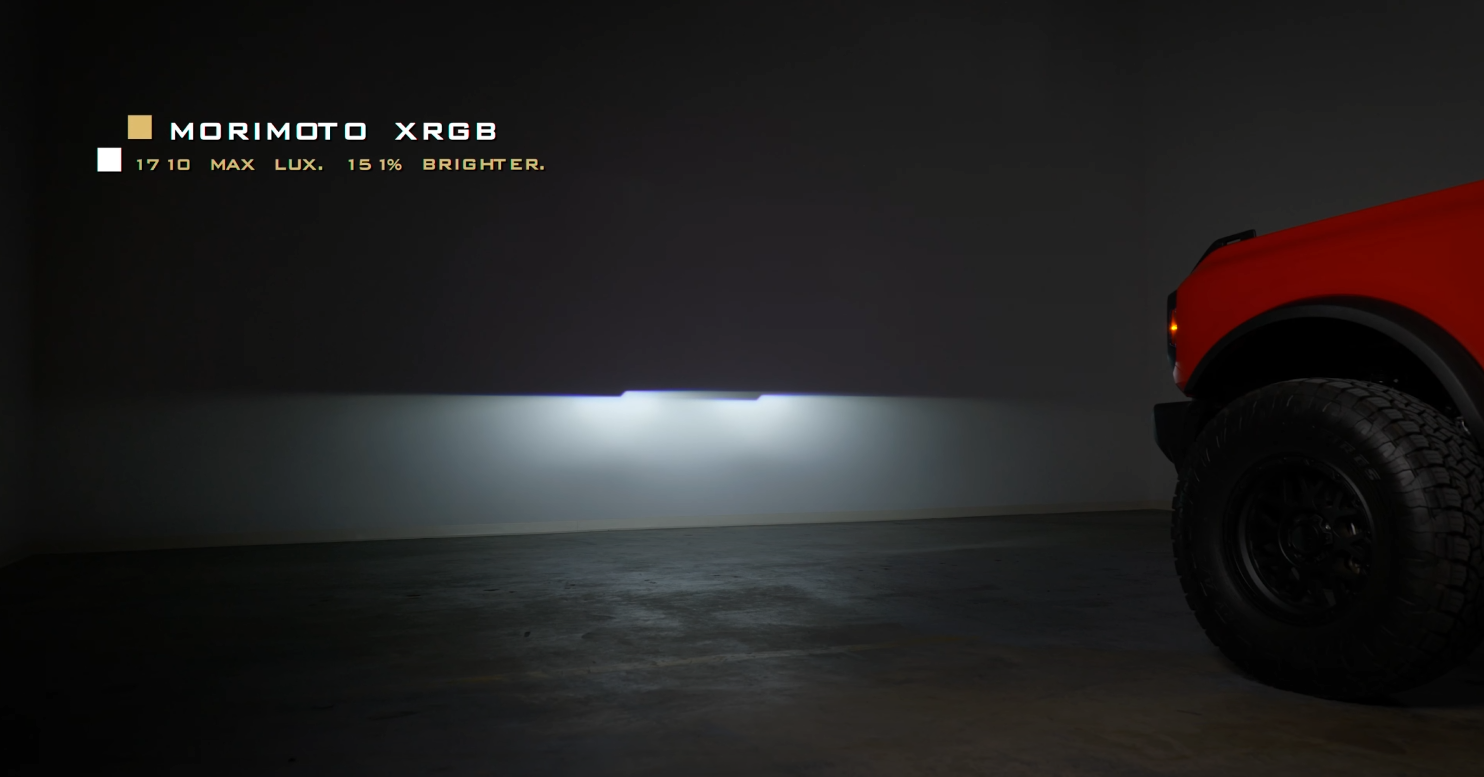 The Morimoto XRGB headlight was tested at 1,710 max lux on the low beam function. Since this headlight uses bi-LED projectors, you'll get a wider beam pattern where the light is well distributed throughout. The low beam on the XRGB headlights is nearly 3 times brighter than the OEM LEDs.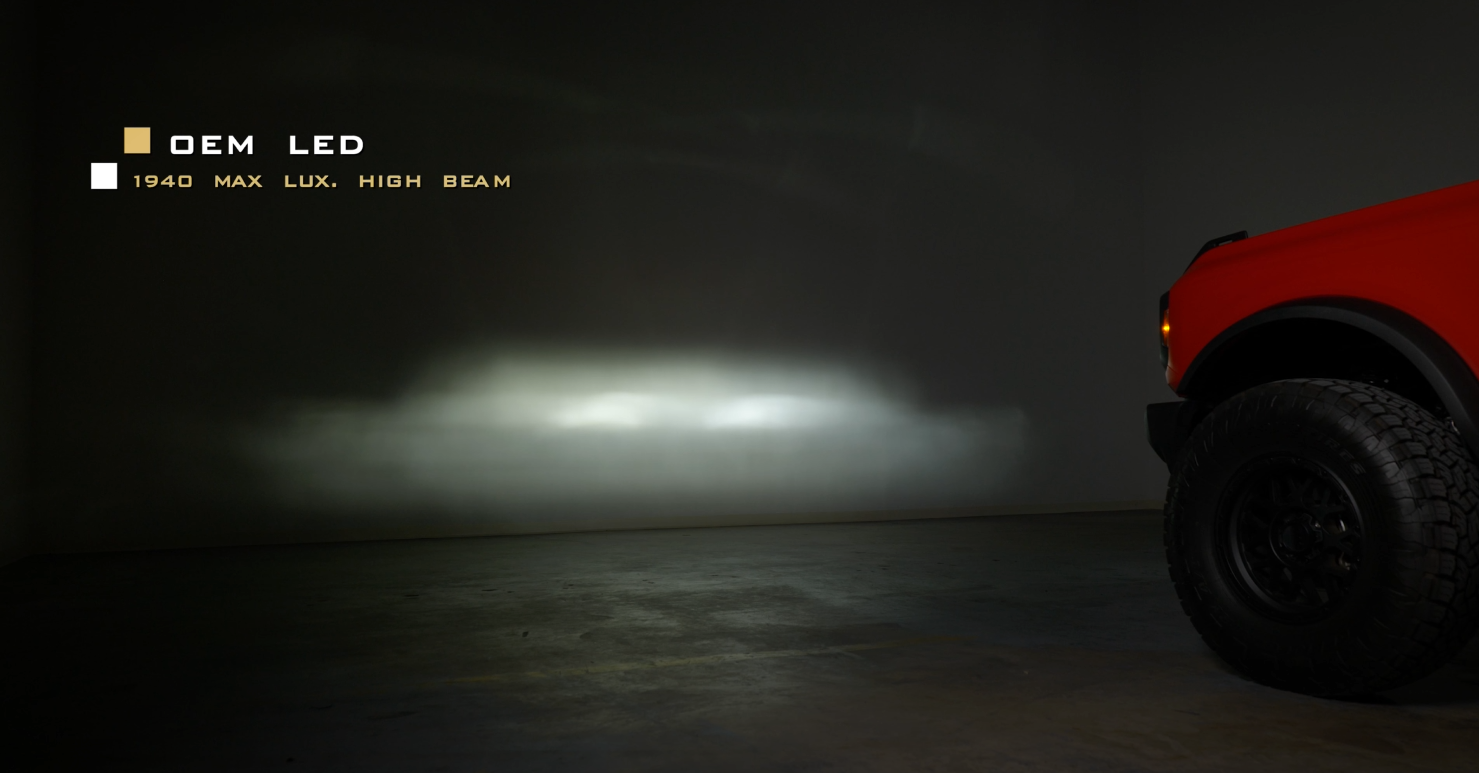 Moving onto the OEM LED high beam, it doesn't improve. Yes, the OEM high beam is rated a lot higher than the low beam. However, you don't want to have to rely on your high beams to drive at night. Even with this beam pattern, you're lacking width and distance lighting. Compare this to the XRGB headlight from Morimoto, and you'll see a huge difference in this wall-to-wall comparison.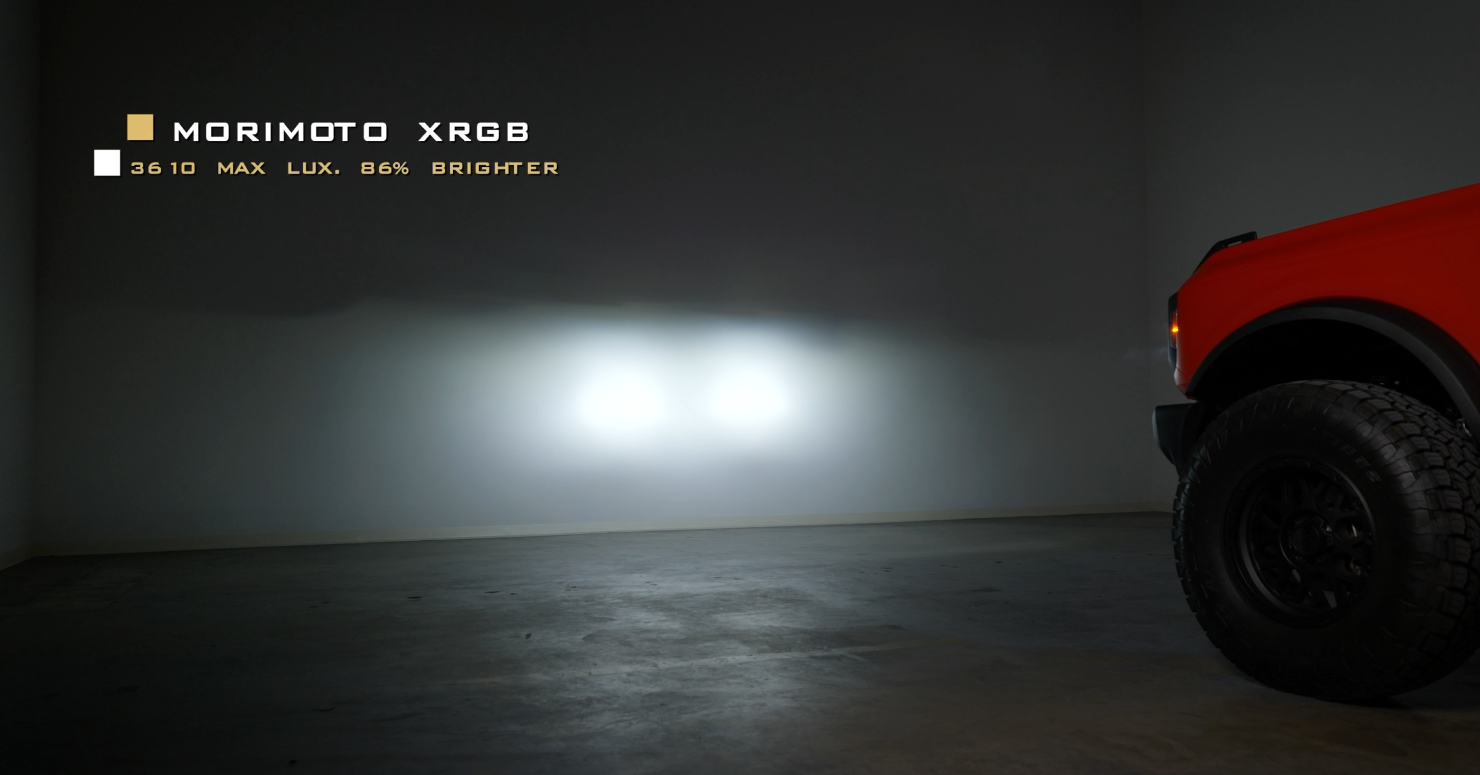 The Morimoto XRGB high beam does a much better job at distributing light evenly across the road and projecting that light further into the distance. Overall, this LED high beam is a much better option when it comes to driving at night.
With the Morimoto XRGB headlight units, you can benefit from their many features. Not only is the beam pattern wider, but the XRGB headlights are also much brighter and help you see further into the distance. Morimoto puts performance and quality at the top of their priority lists. On top of the increase in light, you'll enjoy their OEM quality and fitment. The XRGB headlights are completely plug-and-play per Morimoto quality standards. That ensures installation is short and easy with no excess modifications to your OEM wiring, they believe better lighting should be easy to achieve. You'll also be backed by their 5-year warranty, one of the longest offered by any aftermarket lighting company.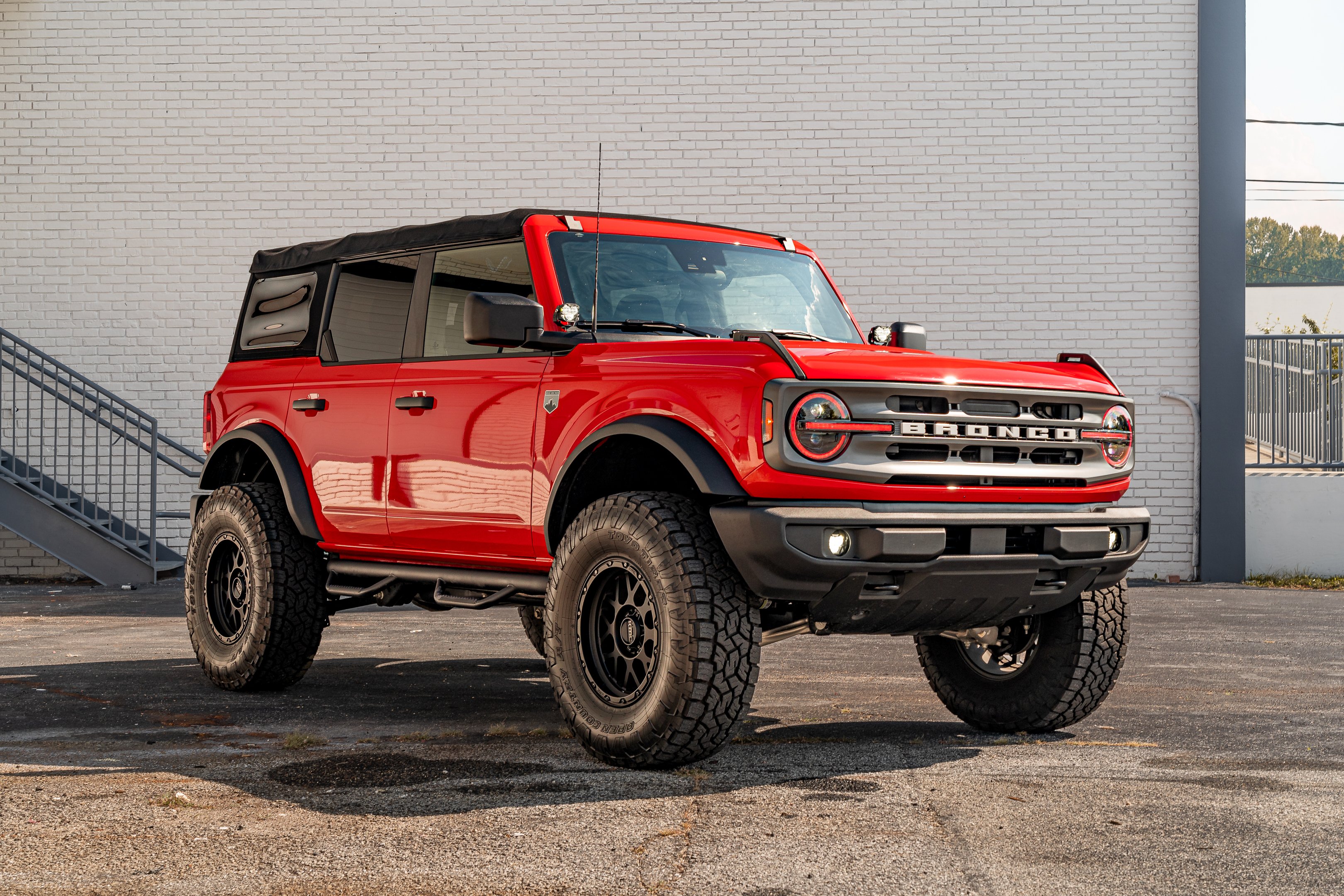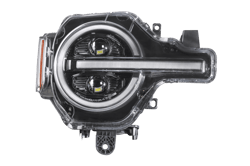 Ford Bronco (21+): XRGB LED Headlights
$1,250.00

CONCLUSION
With such an iconic remake of the Bronco that we have all anticipated, don't let yourself down with poor lighting. Do justice to your ride and upgrade to headlights just as capable as your Bronco. The Morimoto XRGB headlights are sure to double your light output while also doubling your confidence as a driver at night. Now you'll be able to lead the pack instead of following.
Our team here at The Retrofit Source is dedicated to helping you find the best automotive lighting upgrades for your vehicle. If you are more of a visual learner, check out our YouTube channel where we test and review new headlight upgrades. While you are there, do not forget to like and subscribe to our channel for the latest lighting upgrades for your vehicle.
Have any questions about any of the products we mentioned? Contact us today, and our customer support team will be happy to help.