The Ford F250, a symbol of strength and durability, has always been a favorite among truck enthusiasts. But as with all vehicles, there's always room for improvement. One such enhancement is the F250 OEM LED conversion for the 2017-19 models. This upgrade not only modernizes the look of the truck but also offers better visibility for safer driving.
What is the F250 OEM LED Conversion?
Designed specifically for the 2017-19 Ford F250 models, the OEM LED conversion adapts the LED headlights onto trucks that originally came with H13 Dual Halogen headlamps. This means you can now enjoy the modern Super Duty look without any modifications to the truck's factory harness.
Key Features:
Plug N Play: No need for cutting, splicing, or modifying anything. The harness kit ensures your low and high beams work perfectly with the new OEM LED lights using the original controls inside the cabin.
Advanced Technology: The unique Morimoto relay harness retains the full function of the OEM headlight, ensuring no flickering or other issues.
OEM Grade Quality: The Morimoto HD relay harness is not only technically advanced but also aesthetically pleasing. With abrasion-resistant Techflex mesh sleeving and an extruded aluminum relay shell, it looks as good as it performs.
Why Choose the F250 OEM LED Conversion?
Modern Look: Upgrade to the most modern Super Duty look.
Safety: Enhanced visibility for safer driving.
Ease of Installation: The conversion is straightforward, with no need for any modifications.
Quality: With its advanced technology and OEM grade quality, it's built to last.
Product Specifications:
Compatibility: Specifically designed for Ford F-250 models from 2017-2019 (excluding Dually). It's not compatible with other models and is designed for 17-19 Super Duty OEM LED housings only.
Manual Switch Mode: Yes
Auto Switch Mode: No
Note: Gas-powered Super Duty trucks will require an extension of the (+) input lead wire on one of the harnesses to reach the battery terminal. Diesel trucks, with their two batteries, don't need any modifications.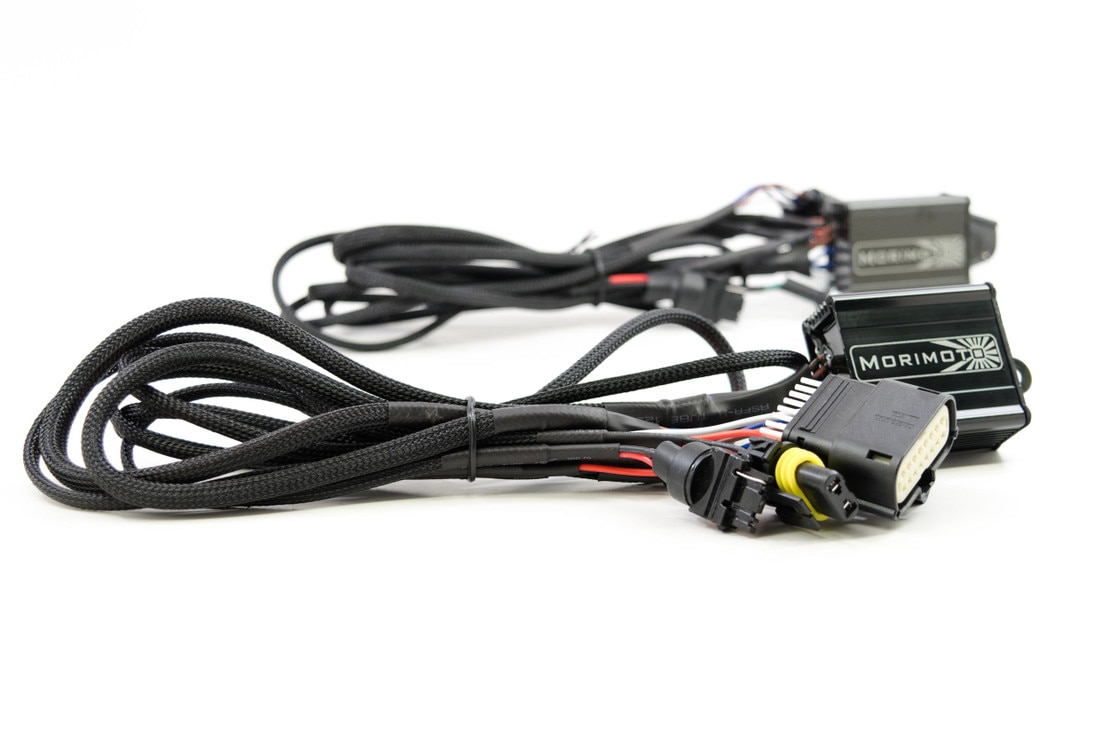 F250 OEM LED CONVERSION (2017-19)
Starting at $315
What's Included in the Kit?
2x Super Duty OEM LED Conversion Harnesses with Resistors
1x Tube Morimoto LectricLube Grease
2-Year Warranty
Customer Review Highlight:
Bryan, a verified buyer, shared his experience with the product:
"2018 Ford F250 XLT with OEM stock halogen headlights. I bought this harness to convert to a set of OEM LEDs I purchased off of a 2019 F450 DRW. This harness worked perfectly, and the install was easy. I took about 2 hours as I was careful not to damage anything. I was thrilled when I set my headlights to AUTO, and they still worked as expected. Not the cheapest harness, but it made the conversion easy. No need to use Forscan to change any settings. Thanks."
Conclusion:
The F250 OEM LED Conversion for 2017-19 models is a worthy investment for anyone looking to enhance the safety and aesthetics of their truck. With its advanced features, ease of installation, and positive reviews from users like Bryan, it's clear that this product delivers on its promises. Upgrade today and experience the difference for yourself!